CHANGE YOUR LIFE ONE DEBT AT A TIME!
Create your own step-by-step debt management plan just like the pros that works!
Would you like to be in control of your debt?

For the first time ever, you can be in control of your debt. Just stop and think about that for a second. Imagine the sense of power you will feel because you are in charge of your debt.

Wouldn't you feel relieved, just knowing you had your very own plan for getting out of debt. A plan you created. A plan you know you can follow. Well guess what, your plan is just one click away!
Would you like to save thousands of dollars?
By following your personalized debt payment plan, you will save thousands of dollars in interest penalties. This is real, hard-earned money you would have given away to creditors. For example, look at this typical credit card:
Balance Owed: 2,100
Interest Rate: 17.9%
Minimum Payment: 53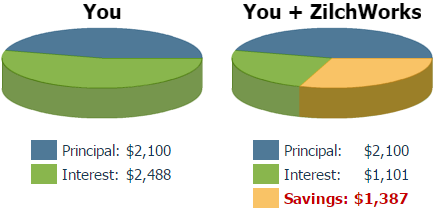 If this was your credit card, you'd save 1,387 using our Zilch software. That's a lot of money. Can't you see how pointless it is to be paying money to credit card companies that could go to birthday gifts, a family vacation or an extra night out a month.

The above example shows the savings realized on just one credit card. How many credit cards do you have? How much money are you throwing away?
We make it easy for you to get out of debt all by yourself.
If you can fill out a check, then you can use our software. You simply fill in the blanks and push a button. It's that easy. Our debt reduction software does the rest.

You will create your very own personalized, get out of debt payment plan that shows you exactly how much to pay each creditor each month.

Now you can take advantage of trade secrets used by many expert financial counselors in the privacy and comfort of your own home.
Would you like to be assured absolute and complete privacy?
You never share your personal or financial information with anyone! EVER! That's right. You purchase our software and download it to your computer. What you do with our software from then on is totally up to you.
No information goes back and forth across the internet
No one will ask you for information
No one sees your financial data unless you give it to them
We offer you an effective solution that's been tested over time!
Since 1991, we've been helping people just like you get out of debt. We are very good at what we do. We've taken the best ideas on how to get out of debt quickly and safely, and captured them in a simple to use computer program.

We know our software works, because we here from our customers all the time. And you know what, It's about more than just getting out of debt. It's about changing people lives.
Rodney Nibbe - Minnesota
"I was looking through my cancelled checks to shred old records and found a check to you for Zilch on 10/3/1999 for $34.00. Money well spent.

Thank you. Your program accelerated my debt reduction. Shortly after I started, I was eligible to buy a house and have almost never carried a balance into the next month.

Thanks again."

(Received on 03/26/2012 - That's 12½ years later!)
Would you like a renewed sense of hope and excitement?
Because you can see the actual date you will be debt free, there is a tremendous feeling of hope. Hope turns into belief because there really is an end to your debt burden. You know you will get out of debt soon. Now that's exciting.
You have a plan
You can see it
You will make it happen
| | | |
| --- | --- | --- |
| ( Mouse over to zoom in ) | | ( Mouse over to zoom in ) |
Would you like financial peace of mind?
Because you can see the actual date you will be debt free, there is a tremendous You will experience financial peace of mind and a sense of accomplishment as you watch your debts shrink and your accounts get paid off. How would this make you feel knowing you're the one who made these payments. You're the one who is responsible for the monthly progress. You're the one in control.
STOP RIGHT HERE
If you had been using Zilch three years ago, your debt would be zilch.
Take that first step. You have nothing to lose. Download a free trial of our debt reduction software right now. There's even a 30 day money back guarantee. What are you waiting for... 3 more years to go by wishing you had done something?