GET YOURSELF OUT OF DEBT TODAY!
Get out of debt in half the time and save thousands in interest penalties.
You can be out of debt faster than you think!
Imagine how you would feel if you could be completely out of debt. Picture yourself not owing money to anyone. Envision being free from those daily, nagging thoughts of money and financial stress. How would you feel?

You can get out of debt. And you can get out of debt faster than you think. All you need is a plan. A plan that fits your current financial situation. A plan you create in the privacy and comfort of your own home. A plan you know you can follow.

A simple plan that is...
Fast
Effective
Affordable
Yes, I want to get out of debt in half the time. Yes, I want to save thousands of dollars in interest penalties. I'm clicking here to place my order now.
"I realized with this tool I could be my own debt counselor!"

Kathy McClain - Michigan Ed.S. Career Educator

"I found myself in the predicament of high credit balances. I heard the ads on the radio and TV about debt counselors, and credit counseling companies. I did not feel safe, or comfortable about contacting these strangers and trusting them with all my information.

I did not have the time to go through their process and was suspicious of the true cost of their assistance. Then I found out about ZilchWorks, ordered it, installed it and realized that with this tool I could be my own debt counselor!

This program is so easy to use and does what all the other companies want to charge you for. I was able to work out my payment plan in the privacy of my home. ZilchWorks showed me exactly what to do to reduce my debt as quickly as possible. I am gaining back my financial freedom with ZilchWorks. Thank you Michael for creating this wonderful program."
Are you interested in saving thousands of dollars?
By following your personalized debt payment plan, you will save thousands of dollars in interest penalties. This is real, hard-earned money. This is your money. This is money you are currently giving away to creditors for no reason.

Look how much money we can save you on a typical credit card:
Balance Owed: $2,100
Interest Rate: 17.9%
Minimum Payment: $53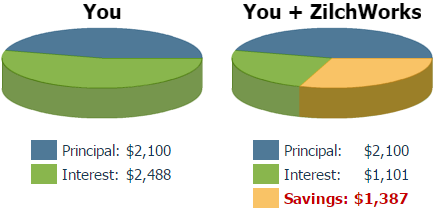 ( Try our free
CardCalc Wizard
online calculator to see your credit card results )
If this was your credit card, you'd save $1,387 using our software. That's a lot of money. Can't you see how pointless it is to be paying money to credit card companies that could go to birthday gifts, a family vacation or an extra night out a month.

The above example shows the savings on just one credit card. How many credit cards do you have? How much money are you throwing away? Start saving money right away, order now!
We make it easy for you to get out of debt all by yourself.
If you can fill out a check, you can use our software. You simply fill in the blanks and push a button. It's that easy. Our debt reduction software does the rest.

You will create your very own personalized, get out of debt payment plan that shows you exactly how much to pay each creditor each month. No more guessing who to pay first. No more figuring out the best way to utilize your hard-earned money. We do all of that for you.

Now you can take advantage of trade secrets used by many expert financial counselors in the privacy and comfort of your own home. Order now it's easy!
Would you like to be assured absolute and complete privacy?
You never share your personal or financial information with anyone! EVER! That's right. You purchase our software and download it to your computer. What you do with our software from then on is totally up to you.
No information goes back and forth across the internet
No one will ask you for information
No one sees your financial data unless you give it to them
Purchase with confidence right now!
We offer you an effective solution that's been tested over time!
Since 1991, we've been helping people just like you get out of debt. We are very good at what we do. We've taken the best ideas on how to get out of debt quickly and safely, and captured them in a simple to use computer program.

We know our software works, because we hear from our customers all the time. And you know what, It's about more than just getting out of debt. It's about changing people lives. Zilch Standard is top-notch product, buy your copy today!
Rodney Nibbe - Minnesota
"I was looking through my cancelled checks to shred old records and found a check to you for Zilch on 10/3/1999 for $34.00. Money well spent.

Thank you. Your program accelerated my debt reduction. Shortly after I started, I was eligible to buy a house and have almost never carried a balance into the next month.

Thanks again."

(Received on 03/26/2012 - That's 12½ years later!)
Would you like a renewed sense of hope and excitement?
Are you looking for financial peace of mind?
Because you can instantly see the actual date you will be debt free, there is a tremendous feeling of hope. Hope that quickly turns into belief. A belief that's strong. Why, because there really is a light at the end of the tunnel. You can see it. You believe it. You know you will get out of debt soon. Now that's exciting.
You have a plan
You can see it
You will make it happen
(Click on the below images to see an actual ZilchWorks plan)
You will also experience financial peace of mind and a sense of accomplishment as you watch your debts shrink and you see your accounts get paid off. The feeling of knowing you made this happen is awe inspiring. Your are responsible for the monthly progress. You are the one in control. What are you waiting for? Take control right now and order your copy of ZilchWorks today!
"I wish I had known about this program before paying $45 a month..."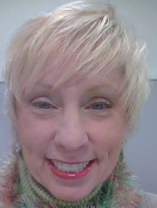 Marlena B. - Canton, Texas

I have a goal, which is to retire soon and spend time with my 2 awesome grandsons, ages 6 and 8. You are going to help make that happen because I'm going to use ZilchWorks to pay off my mortgage as fast as I can.

I originally learned about your software from a friend who uses it. She swears by it! In the past I have used a debt management company to pay off $32,000 of credit card debt, and am paying my last $1,000 on those cards. It has taken 8 long years. I wish I had known about this program before paying that company $45 a month to do what I could have done myself in a shorter length of time.

Thank you for creating this awesome software. God bless you.