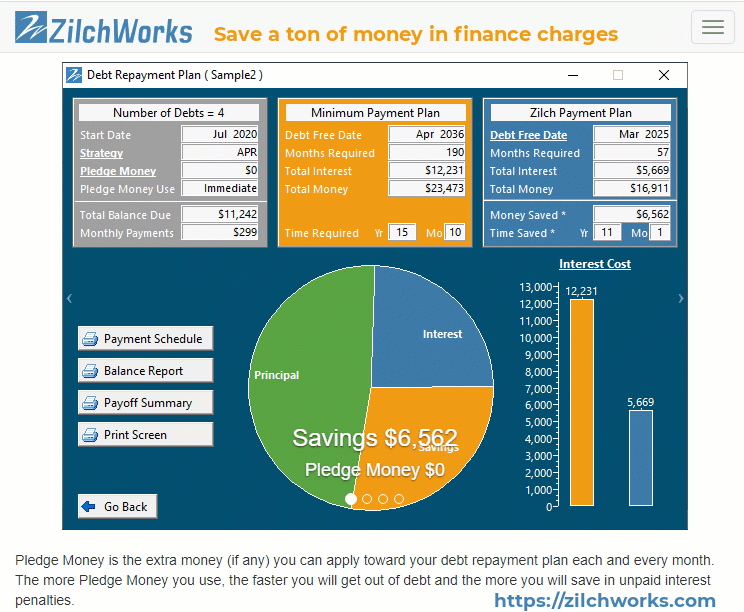 Free Credit Score Calculator
Do you know your credit score?
Our free credit score calculator will give you a fairly accurate estimate of your credit score. Answer these five simple questions and we will calculate your credit score for you, no strings attached.

| | |
| --- | --- |
| Your Score: | (click Calculate My Credit Score) |
❝I want to give a 5 star endorsement of Mike Riley and his software program❞

I want to give a 5 star endorsement of Mike Riley and his software program 'ZilchWorks'. I have known Mike for many years and I have found that in all of our transactions he has been highly ethical and extremely intelligent. I purchased the software program 'Zilch' many years ago and it has been a solid program and does an excellent job in presently the most intelligent plan anyone has ever devised for paying off credit card debt.

And I know that Mike got his experience in developing his program from volunteering and helping people. That's one of the reasons his program is so affordable. I give Mike an unqualified endorsement as being highly ethical, intelligent and concerned for the welfare of others.

I'm a bankruptcy attorney and have been in practice for over 27 years and there are very few people to whom I have ever given a 5 star rating and Mike is one of them. And in order to allow you to verify this '5 Star Rating', I'm providing my contact information as follows:

Dave Falvey, Esq.
258 Route 12
Groton, CT 06340
Tele (860) 449-1510
Email: dave@actionadvocacy.com

Dave Falvey, Esq. - Groton, Connecticut
Buy Now
Try Now
How it Works?
Requires Microsoft Windows