Financial First-Aid For Those With Money Troubles!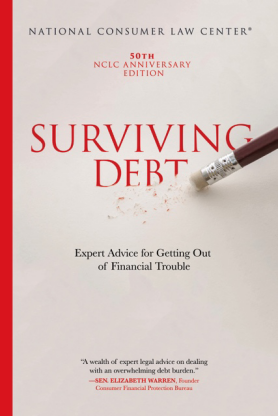 Table of Contents
Chapter 2 Responding to Debt Collectors
Introduction
Do Not Let Collectors Pressure You
What Collectors Can Legally Do to Collect on a Debt
Nine Ways to Stop Debt Collection Harassment
Illegal Debt Collection Conduct
Chapter 3 What You Need to Know About Your Credit Report
Introduction
What Is a Credit Report and a Credit Score?
How Does Continued Non-Payment Affect Your Credit Score?
Who Sees Your Credit Report and Who Does Not?
How to Review Your Credit Report
Coping with a Bad Credit Report
Rebuilding Your Credit
Chapter 4 Collection Lawsuits
Introduction
Will the Collector Actually Sue You?
Can You Win the Lawsuit?
How to Respond to a Collector's Lawsuit
Common Defenses to Raise
Common Counterclaims to Raise
Special Rights If You Are Active Duty Military
Going to Court
Be Wary of Deals You May Be Asked to Make in the Court's Hallway
Undoing a Default Judgment
Your Appeal Rights
Chapter 5 Taking Out New Loans to Pay for Old Debts
Introduction
Borrowing from Friends and Relatives
Borrowing Against Your Home
New Credit Card Debt
Credit Union Loans
Loans to Avoid
Chapter 6 Reverse Mortgages
Overview
Who Should Consider a Reverse Mortgage?
How the Reverse Mortgage Works
Reverse Mortgages Are Still Subject to Early Foreclosure
What About My Spouse or Partner?
Is a Reverse Mortgage a Good Idea?
How Does a Reverse Mortgage Stack Up Against a Traditional Mortgage, Refinancing, or Home Equity Loan?
Chapter 7 Choices to Avoid at All Costs
Introduction
Debt Elimination Scams
Debt Settlement Offers
Foreclosure Rescue Scams and Sale and Lease Back of Your Home
Rip-Off Reverse Mortgages
Credit Repair
Payday Lenders
Auto Title Lending
High Cost Installment Loans
Refinancing and Consolidation Loans
Student Loan Debt Relief Scams
Rent to Own
Auto Brokers
Subprime Credit Cards
Bouncing Checks and Postdated Checks
Using Overdrafts As Credit
Selling or Giving Away a Creditor's Collateral
Get-Rich-Quick Schemes
Chapter 8 Reducing Your Expenses
Introduction
Tips to Reduce Expenses Described Elsewhere in This Book
Saving Money on Insurance Coverages
Medical and Dental Care
Food Expenses
Appliances, Furniture, and Electronics
Check Cashing and Banking
Pressure-Related Shopping
Winter Holiday Cycle of Debt
Other Expenses
Chapter 9 Options for Increasing Your Income
Introduction
Wage-Related Options
Income Assistance
Food Assistance
Emergency Programs
Veterans Benefits
Reporting Change in Income If You Receive a Needs-Based Benefit
Other Ways to Increase Income
Chapter 10 Keeping Track of Income, Expenses, and Debt
Introduction
How to Remember Your Expenses
Chapter 11 Medical Debt
Introduction
Don't Pay Medical Debt Ahead of Other Debt or Borrow to Pay Medical Debt
Debt Collectors and Medical Debt
Limits on Credit Reporting of Medical Debt
Can a Hospital Turn You Away If You Owe It Money?
Correcting Your Medical Bills
Requesting Financial Assistance
Will a Health Care Provider Sue You for Unpaid Bills?
Chapter 12 Credit Card Debt
Introduction
When to Pay on Your Credit Cards and When to Use Them
How a Delinquent Credit Card Account Affects You
Special Cards Create Special Problems
Interest Rate Reduction for Members of the Military on Active Duty
Negotiating to Reduce Your Credit Card Debt
Avoid Debt Settlement and Debt Elimination Companies
Credit Counseling and Debt Management Plans
The Bankruptcy Option
Chapter 13 Student Loans
Introduction
First Step: Identify What Kind of Loan You Have
Rights to Cancel Your Federal Student Loan
How to Reduce or Delay Your Payments
What to Expect If You Are in Default on Your Student Loan
Getting Out of Default
More Help with Federal Student Loan Problems
Private Student Loans
Chapter 14 Car Loans and Repossessions
Introduction
Strategies to Prevent Repossession
What to Do After Your Car Is Repossessed
Creditors' Collection Efforts After the Repossession Sale—The Deficiency Action
Chapter 15 Utility Terminations
Introduction
Your Rights When the Utility Threatens to Terminate Your Service
How to Get Your Utility Service Turned Back On
Ways to Reduce Your Utility Bills
Chapter 16 What Every Homeowner Should Know About Mortgage Payments
Introduction
First Considerations
Surprising Facts About Partial Mortgage Payments
How to Determine the Status of Your Mortgage Loan
Disputing the Amount Due
Escrow, Taxes, and Insurance
Reduced Mortgage Rates for Active Duty Military
Chapter 17 When You Are Having Trouble Making Mortgage Payments
Introduction
The Help Offered Depends on the Lender Involved
Options for Fannie Mae and Freddie Mac Loans
Options for FHA-Insured Mortgages
Options for VA Mortgages
Options for the Rural Housing Service (RHS) Guaranteed Loan Program
The RHS Direct Loan Program
The Loss Mitigation Application Process
Chapter 18 Defending Your Home from Foreclosure
Introduction
Your Rights in the Mortgage Foreclosure Process
Getting Legal Advice to Stop a Foreclosure; Advice to Avoid
Delaying the Foreclosure Process
A Chapter 13 Bankruptcy May Stop a Foreclosure Permanently
State Temporary Bans on Foreclosure; Conference and Mediation Programs
Your Options After the Foreclosure Sale
Special Protections Against Foreclosure for FHA, VA, and RHS Mortgages
Special Protections for Active Duty Military
Foreclosure of Land Instalment Sales
Foreclosure Protections Where Mortgage Resulted from a Home Improvement Scam
Foreclosures of Manufactured (Mobile) Homes
Foreclosure for Unpaid Condominium Fees
Chapter 19 Property Taxes and Tax Sales
Introduction
Reducing Property Tax Debt
Managing Seriously Delinquent Property Tax Debt
Contesting a Tax Sale
Setting Aside a Completed Tax Sale
Redemption Following the Tax Sale
Chapter 20 Evictions and Getting Out of a Lease
Introduction
Getting Out of a Lease
Responding to a Landlord's Eviction Attempts
Chapter 21 Civil Court Judgment Debt
Introduction
Civil Court Judgment Debt—What It Is and What It Means
Garnishment of Your Wages
Government Benefits Completely Protected from Garnishment
Freezes and Seizures of Your Bank Account
Protecting Your Car and Personal Possessions from Seizure
Protecting Your Home from Seizure
The Debtor's Examination and Debtor's Prisons
Exemption Planning
Workout Agreements to Protect Wages and Property
Bankruptcy Is the Most Powerful Way to Protect Wages and Property
Chapter 22 Debts Related to Criminal Law
Introduction
Identifying the Type of Criminal Justice Debt You Have
Why You Must Pay Special Attention to Criminal Justice Debt
Defending Against Incarceration for Non-Payment of Criminal Justice Debt
Keeping or Reinstating Your Driver's License
Payment Plans and Other Ways to Delay or Reduce Payment
Asserting Your Rights Against Collection
Chapter 23 Federal Income Tax Debt
Introduction
File the Return on Time Even If You Do Not Pay the Taxes Owed
Options for Paying Tax Debt
Spousal Defenses
Steps the IRS Can Take to Force Payment
Effect of Bankruptcy on Your Tax Debt
Seeking Help
Chapter 24 Deciding Whether and When to File Bankruptcy
Introduction
What Bankruptcy Can and Cannot Do
Understanding the Difference Between a Chapter 7 and a Chapter 13 Bankruptcy
How a Bankruptcy Can Help You
The Best Time to File for Bankruptcy
The Cost of Filing Bankruptcy
Common Misconceptions About Bankruptcy
When Bankruptcy May Be the Wrong Solution
Chapter 25 How the Bankruptcy Process Works
Introduction
Step One: Get the Right Help with Your Bankruptcy Filing
Step Two: Exemption Planning
Step Three: The Credit Counseling Requirement
Step Four: Choosing Between Chapter 7 and Chapter 13
Step Five: Deciding Whether to File Bankruptcy Jointly with a Spouse
How Chapter 7 Bankruptcies Work
How Chapter 13 Bankruptcies Work
Bankruptcy's Tax Consequences
Using Credit Wisely After Bankruptcy
Glossary
Introduction
Entries A-D
Entries E-P
Entries Q-Z

zilchworks.com is owned and operated by Michael J. Riley, a retired United States Marine Corps Gunnery Sergeant. Riley's easy to use Zilch software has been helping people get themselves out of debt since 1991.
"Zilch does one thing and does it very well.
It gets you out of debt."