How Zilch Works Steps 1 through 6
Step 2 - Enter information about your debts.
Start by clicking the Add... button on the main screen. When you click the Add... button you will be presented with a simple, easy to use form in a pop-up window. This is how you input the information you collected on the data entry worksheet from Step 1.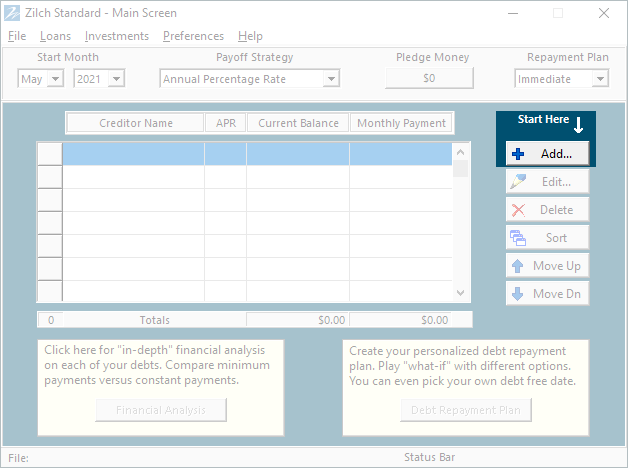 ( ZilchWorks Main Screen )
Use the simple Add Creditor Information form and enter the following information for each debt.
Creditor Name
Annual Percentage Rate
Current Balance
Monthly Payment
Credit Card
Loan/Mortgage
Click the OK button when you are done.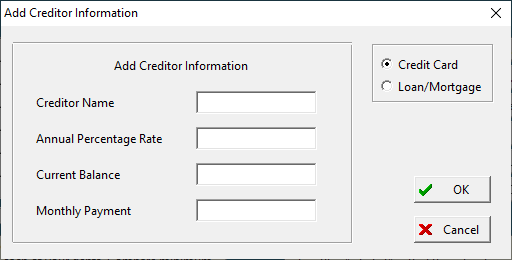 ( Add Creditor Information Form )
After you have competed entering all the creditor information your screen should look similar to this: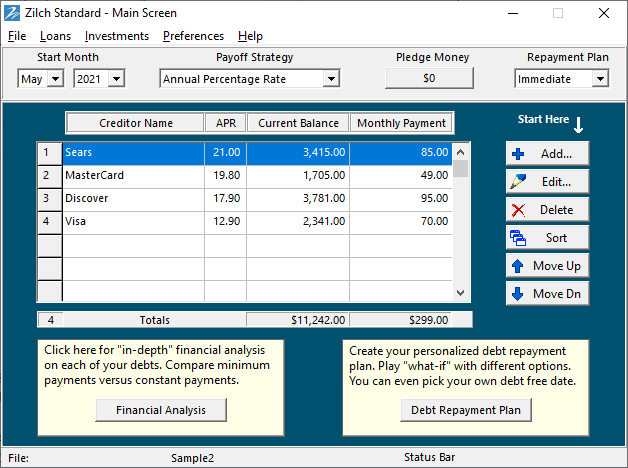 ( Add Creditor Information Complete )
How Zilch Works Steps 1 through 6
❝I realized that with this tool I could be my own debt counselor!❞

I found myself in the predicament of high credit balances. I heard the ads on the radio and TV about debt counselors, and credit counseling companies. I did not feel safe, or comfortable about contacting these strangers and trusting them with all my information.

I did not have the time to go through their process and was suspicious of the true cost of their assistance. Then I found out about ZilchWorks, ordered it, installed it and realized that with this tool I could be my own debt counselor!

This program is so easy to use and does what all the other companies want to charge you for. I was able to work out my payment plan in the privacy of my home. ZilchWorks showed me exactly what to do to reduce my debt as quickly as possible. I am gaining back my financial freedom with ZilchWorks. Thank you Michael for creating this wonderful program.

Kathy McClain, Ed.S. Career Educator - Michigan