Step 3 - Add Pledge Money
What is Pledge Money?
Pledge Money is the extra amount of money (if any) you can afford to apply toward your debt repayment plan each and every month. The more Pledge Money you can use, the faster you will get out of debt and the more money you will save. While adding Pledge Money can make a difference, it is not necessary for you to have any extra money to make this program work for you.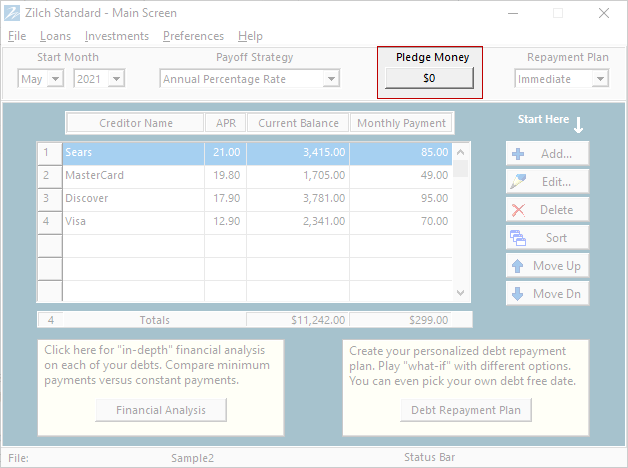 ( ZilchWorks Main Screen )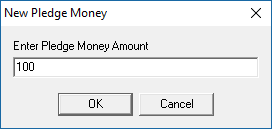 ( Pledge Money Box )
DOWNLOAD BUY NOW $39.95 WHAT PEOPLE SAY VIDEOS
❝I wish I had known about this program before paying $45 a month❞

I have a goal, which is to retire soon and spend time with my 2 awesome grandsons, ages 6 and 8. You are going to help make that happen because I'm going to use ZilchWorks to pay off my mortgage as fast as I can.

I originally learned about your software from a friend who uses it. She swears by it! In the past I have used a debt management company to pay off $32,000 of credit card debt, and am paying my last $1,000 on those cards. It has taken 8 long years. I wish I had known about this program before paying that company $45 a month to do what I could have done myself in a shorter length of time.

Thank you for creating this awesome software. God bless you.

Marlena B. - Canton, Texas

zilchworks.com is owned and operated by Michael J. Riley, a retired United States Marine Corps Gunnery Sergeant. Riley's easy to use Zilch software has been helping people get themselves out of debt since 1991.
"Zilch does one thing and does it very well.
It gets you out of debt."